GUILHERME VERGUEIRO
Brazilian Music pianist, composer, arranger, producer and documentarist.
---
Português
---
Who am I
Biography
Discography
Photo Gallery
Product and Services
Contact
---
WHO AM I?
---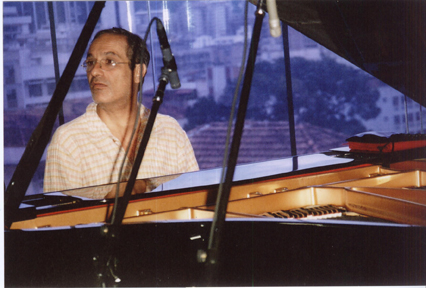 ---


I am a Brazilian who sees music as a work of art. I had all the classical training, but decided to get 
into the popular genre, because I have always been a deluded by Samba, Samba Canção (Brazilian ballad), 
Choro, Seresta and Bossa Nova. And I always been that way and behave this way since the beginning of 
my career in the late 60s. 

Each song that I play, each performance, each recording has to be definitive. As an art we have in 
the living room wall throughout our lives. I like to interpret in my way and style, Brazilian music, 
translating the melodies, harmonies and Brazilian rhythms into the human feelings, the feelings of the 
Brazilian people, and for being like this I am very demanding with myself. I feel a huge responsibility 
every time I play the piano. Also I do not like to ever repeat myself. If I have to play the same song 
a myriad of times, each time has to be different, according to the day, time, era, the audience and 
especially my state of mind. Each day is a day, every hour is an hour. I have always to be open to 
what I'm feeling at the moment, open to new ideas that emerge in the middle of an interpretation, 
of an improvisation. I have no restrictions when I play the piano. I relate to it, we became one. 
My heart is the boss. Sends what I am feeling to my brain which in return sends the messages to my 
fingers. All of this in milliseconds. You should be very concentrated, otherwise the boat sinks. 
I just love the challenge, the emotion, the freedom that comes playing like that. Some pianists 
play with the fingers, I play with the heart. 

I have infinite respect for the audience that is listening to me. My wish is to perpetuate in their 
hearts feelings, feelings that never will leave them. Sadness, joy, tension, density, lightness, 
rebellion, always truthful and sincere feelings, identifiable with the feelings and life of each. 
After all, every human being is equal, we all have our tragedies, struggles, loves, passions, 
adventures and misadventures, problems, joys, sorrows, happiness, certainty and uncertainty, insecurity 
and security and when we go to a concert, show, or listen to some music at home, in the car, we are 
actually looking for some form of relief and/or comfort to our souls, and sometimes I am the one who 
take responsibility for bring this relief and/or comfort to people. I feel a huge responsibility. 
I dive into the bottom of my soul to find the most pure and sincere sentiments so the public can leave 
a little of the harsh reality of life behind, and go to other dimensions, other spheres, more calm and 
benevolent, where love prevails, where the union really is the force, where there is peace, tranquility 
and serenity. I always hope for that all my appearances and/or recordings stay for ever in the heart 
and soul of the people. I am very careful with this, but I confess that I feel I'm still learning. 
That music is infinite and that learning ends only when God calls us for other missions. 

But since I'm still here, (and hopefully stay for a long time), I still am always eager for the 
improvement of my mission here, which is to be a musician. A Brazilian musician. A Pianist. Be more 
patient, dedicated, conscientious and increasingly concentrated. 

I pray to God to never forget me, (as He never forgot), that my inspiration and my love for others are 
increasingly in accordance with His teachings and that I can accomplish the task that was given to me 
always with more balance, wisdom, concentration, strength, responsibility, joy and much love, whether 
playing, composing, arranging, producing or making a documentary.(My new passion.) 

In my life I already, experienced much love, joy, excitement, difficulties, betrayal, losses ... 
but I survived. I did much good, I made many friends, (Maybe I have some enemies, but either I do not 
know them or I do not know that is an enemy) but I also sinned. A whole lot of sins. I had many false 
friends. Many women left me. But the music and the piano never. Neither the real friends. Thank God!
I hope you enjoy and may God bless all who maybe pass by around here. Thanks for the visit.
---
---